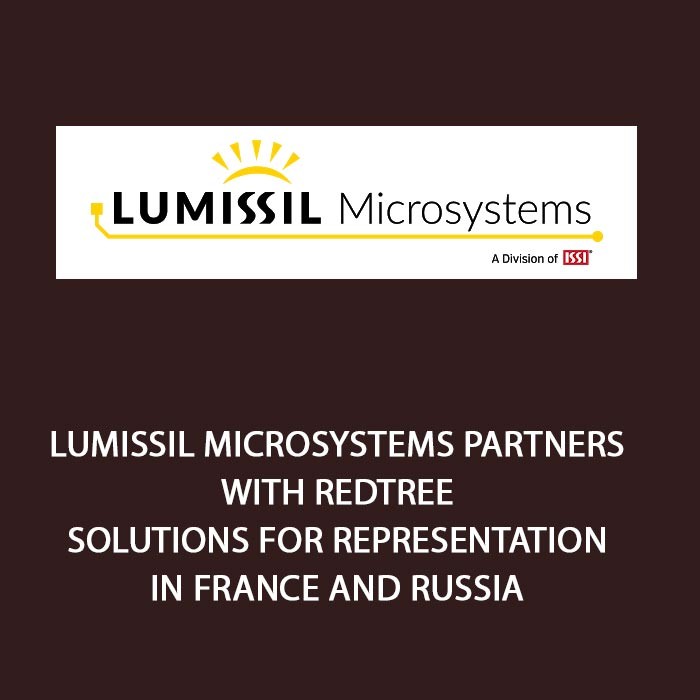 MILPITAS, Calif., June 26, 2020 -- Lumissil Microsystems, a division of Integrated Silicon Solution, Inc. (ISSI), announced today Redtree Solutions as its' new manufacturer's representative for France and Russia as well as Iberia on a limited product portfolio excluding connectivity
Redtree Solutions is the largest pan-EMEA manufacturer's rep company. "We are very excited to work with Lumissil Microsystems to complement our ecosystem in our Key market segments" said Jean-Marie Houillon, VP Marketing & Alliances of Redtree Solutions Ltd. Lumissil's value added Analog and Mixed Signal products will be an asset to our customers' projects.
"The addition of Redree Solutions to the Lumissil Microsystems rep network adds a deep commitment to support our customers by partnering with reps offering a synergistic line card that helps our customers provide advanced market
solutions to quicker." says Lyn Zastrow, VP of Worldwide sales for Lumissil Microsystems. We can give our automotive, consumer, and industrial customers with a best-in-class service.
About Lumissil Microsystems
Lumissil Microsystems is the Analog & Mixed signal division of ISSI. We develop innovative analog and mixed-signal IC solutions for use in the consumer appliance, IoT, gaming, industrial, communications and automotive markets.
Our wide range of IC solutions include LED drivers for low to mid-power RGB color mixing and high power lighting applications as well as audio, sensors and application specific microcontrollers and networking semiconductor ICs.
Our network of worldwide employees are committed to engineering innovation, design in of quality, sales support and long term availability for our IC solutions. Learn more at www.lumissil.com.
CONTACT:
Lumissil Microsystems
Lyn Zastrow 972.571.5108
This email address is being protected from spambots. You need JavaScript enabled to view it.

About Redtree Solutions Limited
Redtree Solutions is the largest pan-EMEA manufacturer's rep company with focus on demand creation at the main actors of Europe electronics Industry. The company has established sales offices in each of the major EMEA
territories including UK, Scandinavia, France, Benelux, Spain/Portugal, Germany, Italy, Turkey and Israel.
We represent leading edge semiconductor manufacturers and aim to provide our customers with market-defining, innovative and reliable solutions. Our focus is on synergistic technologies that allow us to provide optimized solutions
to customer needs. Our mission is to add significant value to our customers' applications by offering early access to our complete ecosystems combining competitive and advanced technology.
Redtree Solutions has an exceptional level of demand creation focus and serves the Telecom, Consumer, Enterprise, Automotive, Industrial and Aerospace & Defense marketplaces. For more information please visit www.redtreesolutions.
com
CONTACT:
Redtree Solutions Ltd,
Jean-Marie Houillon +33 6 86 86 78 44
This email address is being protected from spambots. You need JavaScript enabled to view it.
About Integrated Silicon Solution, Inc. (ISSI)
ISSI is a fabless semiconductor company that designs, develops and markets high performance integrated circuits for the following key markets: (i) automotive, (ii) communications, (iii) industrial, and medical, and (iv) digital consumer.
ISSI's primary products are SRAM, DRAM, Flash memory which includes NOR flash, NAND flash and managed NAND solutions (eMMC), and Analog and Mixed signal integrated circuits. ISSI provides high-quality semiconductor products and has been a committed long-term supplier of integrated circuit products. ISSI is headquartered in Silicon Valley with worldwide offices in Taiwan, Japan, Singapore, China, Europe, Hong Kong, India, and Korea. Visit our web site
at http://www.issi.com/