NEWS & EVENTS
Redtree News and events
Avalanche Technology and Redtree Solutions Announce Representation Agreement for EMEA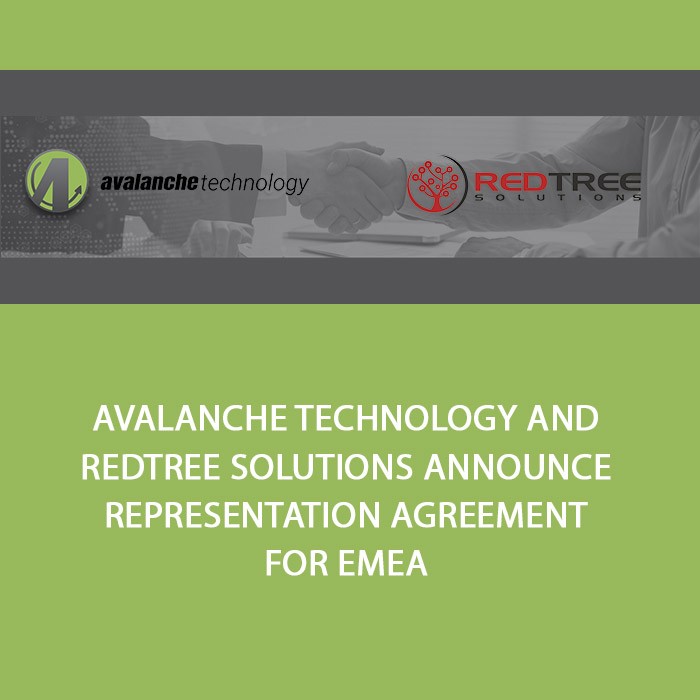 Fremont, California, March 22, 2021 – Avalanche Technology, the leader in next generation MRAM technology, today announced that it has entered into an agreement with Redtree Solutions Ltd. to represent Avalanche in the sales of its discrete P-SRAM STT-MRAM non-volatile memories in the Europe, Middle East and Africa (EMEA) regions.
"The high access speed, low power consumption and excellent endurance of Avalanche's STT-MRAM products will bring significant benefits to our customers who develop products for industrial, IoT and aerospace applications", said Jean-Marie Houillon, VP Marketing of Redtree Solutions. "Avalanche's portfolio of STT-MRAM-based discrete memory devices complements and completes our portfolio of processors, MCUs, FPGAs, memory devices, connectivity devices and sensors. We are excited to add them to our portfolio of products".
"Redtree will help us reach more European customers who want to use Avalanche P-SRAM to innovate around industrial, IoT and aerospace products, and extend our reach into segments that require extreme reliability combined with non-volatility" said Milissa McCarthy, Vice President of Sales at Avalanche Technology. "Redtree will enable us to have world-class local support for our customers in the Pan-European and Middle East regions."
Avalanche's serial Persistent SRAM (P-SRAM) devices are based on its latest Spin Transfer Torque Magneto-resistive RAM (STT-MRAM) technology, and support Serial Peripheral Interface (SPI) with both single (108 MHz) and double (54 MHz) data rate modes. They are available in densities of 1 Mbit to 16 Mbits, and in small footprint packages – 8-pin SOIC, 8-pad WSON, and 24-ball FBGA – that are pin-compatible with similar non-volatile and volatile devices.
Avalanche's parallel P-SRAM devices are also based on its latest STT-MRAM technology, and offer low power, low latency, high performance, and virtually infinite endurance and data retention. They are available in densities of 1 Mbit to 32 Mbits, and are true random-access memory devices, allowing reads and writes to occur randomly. These devices are ideal for applications that require storing and retrieving data without large latency penalties.
About Avalanche Technology
Avalanche Technology Inc. is the leader in next generation Perpendicular STT-MRAM technology, accepted as the front-runner to replace traditional Flash and SRAM for unified memory architectures in future SOC systems, delivering high performance and low power at 55, 40 and 28nm with scalability to 22 and 14nm. With a proven STT-MRAM portfolio at multiple geometry nodes combined with an intellectual property portfolio of over 300 patents and applications, Avalanche Technology is delivering on the promise of enabling the next generation of scalable embedded unified memory architecture for use in GPUs, MCUs, DSPs, ASSPs and ASICs, making it the true "Next Generation MRAM Company". For more information, visit us online at https://www.avalanche-technology.com.
About Redtree Solutions Ltd.
Redtree Solutions is the largest Pan-European Representative company in the Semiconductor Industry. Redtree has greater than 40 people, speaking local languages and covering 19 countries with more than 500 active customers. Redtree invests in next generation technologies for the benefit of its customers and their success. The Redtree applications team is devoted to help its customers find most optimized architecture for their Electronic systems, with the help of its partners' solutions and expertise. For more information, visit http://www.redtree-solutions.com.
Stay Informed
When you subscribe to the blog, we will send you an e-mail when there are new updates on the site so you wouldn't miss them.