NEWS & EVENTS
Redtree News and events
GOWIN Semiconductor - USB 2.0 PHY & Device Controller IP Certification Webinar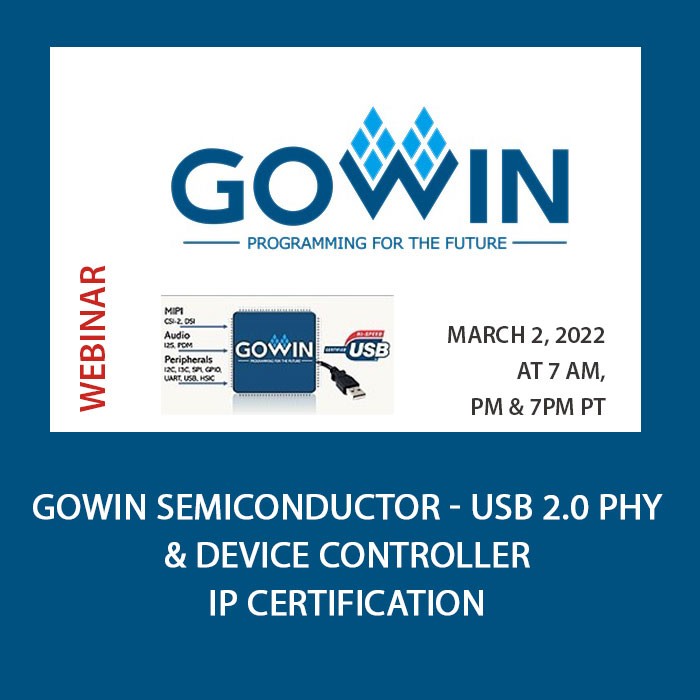 This webinar occurs several times. Please register for the date and time that works best for you.
Wednesday, March 2, 2022 at 7am, 1pm, and 7pm PT.
Join one or all!
GOWIN Semiconductor is pleased to present its latest USB 2.0 certification! USB is one of the most commonly used interfaces in the electronics industry, but FPGAs have not supported an integrated solution until GOWIN's USB 2.0 PHY and Device Controller IPs last year. Additionally, many interface IPs from traditional FPGA vendors have lacked compliance and automotive applications. certification making it difficult to utilize FPGA ICs for many mainstream consumer and industrial consumers.
GOWIN has made it a common practice to certify its IPs and solutions. As a result, it's the first FPGA manufacture to offer USB IF certified USB 2.0 PHY Interface and Device Controller IPs.
In addition to USB 2.0 certification several new reference designs and IP cores have been developed. GOWIN now offers an increasingly large portfolio of USB related solutions for it's product developers to enjoy and utilize with GOWIN FPGAs with no royalties or license fees.
This webinar will provide details on:
1. USB 2.0 certification for GOWIN FPGAs
2. Existing and future USB related IP cores for GOWIN FPGAs
3. HUB, Host, HID, UAC, UVC and HSIC reference designs and use case examples
4. GOWIN USB 2.0 Audio Class to/from I2S Demonstration
***Free Giveaway!***
Attend the webinar and enter to win a free GOWIN USB GWU2X programming dongle, which uses GOWIN's USB IPs inside! A special code and link will be provided during the webinar to be 1 of 20 lucky winners!
After registering, you will receive a confirmation email containing information about joining the webinar.
Stay Informed
When you subscribe to the blog, we will send you an e-mail when there are new updates on the site so you wouldn't miss them.