NEWS & EVENTS
Redtree News and events
GreenWaves Technologies selects Redtree Solutions Ltd as its pan-European Representative to promote GAP8, the industry's first IoT processor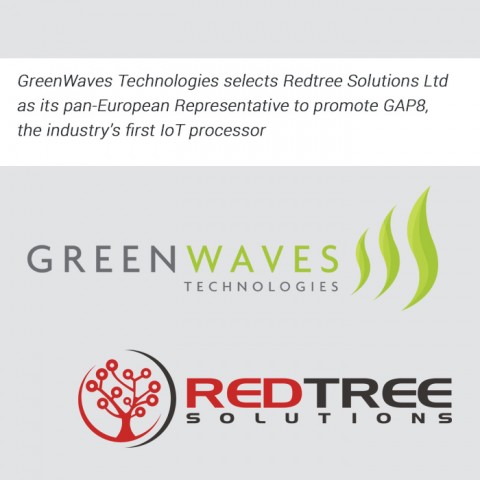 Preston Bissett, UK– June 12th, 2017 – Redtree Solutions, the largest pan-EMEA manufacturer's rep company today announced it was selected by GreenWaves Technologies to represent them and to promote their first product GAP8, industry's first IoT processor. Redtree Solutions will provide GreenWaves Technologies with its unique pan-european network of sales and application support.

Headquartered near Grenoble, France, GreenWaves Technologies is a fabless semiconductor company. Their GAP8 device is an ultra-low power smart IoT processor, based on the open-source PULP and RISC-V projects, that can analyze and classify rich data produced by image, sound and motion sensors. It can operate for several years on a single battery. Its 1+8 extended RISC-V ISA cores, combined with a convolutional neural network engine, provides very high processing power that is uniquely energy efficient and easy to program. Furthermore, GAP8 presents a cost breakthrough for mid-range machine vision solutions.

"Redtree Solutions' track records in design creation for application specific processors combined with its ecosystem approach is a great fit for the promotion of our first device GAP8." said Loic Lietar, Co-Founder and CEO of GreenWaves Technologies. "On top, Redtree's ecosystem is helping us meeting our goals along the supply chain of our device. FPGA application demos of GAP8 are available to customers today and GAP8 development boards & tools will be available in September 2017."

"We are very excited to work with GreenWaves Technologies to complement our application processor offer for Industrial IoT applications combining very high level performances and ultra low power with the GAP8 processor" said Jean Marie Houillon, VP Marketing & Alliances of Redtree Solutions Ltd. GAP8 will enable battery powered MIPS consuming vision applications with the possibility to combine many other sensing features on top, providing our industrial customers with a solution to meet there needs today and far into the future.

About GreenWaves Technologies
GreenWaves Technologies is a fabless semiconductor company that develops GAP8, the industry's first IoT processor. Thanks to its extreme energy efficiency, GAP8 enables smart IoT battery-powered applications, such as image classification, people counting, machine health monitoring and many more. To learn more, please visit www.greenwaves-technologies.com

About Redtree Solutions Limited
Redtree Solutions is the largest pan-EMEA manufacturer's rep company with focus on demand creation at the main actors of Europe electronics Industry. The company has established sales offices in each of the major EMEA territories including UK, Scandinavia, France, Benelux, Spain/Portugal, Germany, Italy, Turkey and Israel.
We represent leading edge semiconductor manufacturers and aim to provide our customers with market-defining, innovative and reliable solutions. Our focus is on synergistic technologies that allow us to provide optimized solutions to customer needs. Our mission is to add significant value to our customers' applications by offering early access to our complete ecosystems combining competitive and advanced technology.
Redtree Solutions has an exceptional level of demand creation focus and serves the Telecom, Consumer, Enterprise, Automotive, Industrial and Aerospace & Defence market places. For more information please visit www.redtree-solutions.com
Contact Information:
Loic Lietar
GreenWaves Technologies
This email address is being protected from spambots. You need JavaScript enabled to view it.
Jean-Marie Houillon
Redtree Solutions
+33 6 86 86 78 44
This email address is being protected from spambots. You need JavaScript enabled to view it.
Stay Informed
When you subscribe to the blog, we will send you an e-mail when there are new updates on the site so you wouldn't miss them.