NEWS & EVENTS
Redtree News and events
Qorvo® Recognizes Top IDP Sales Representatives and Distributors for 2020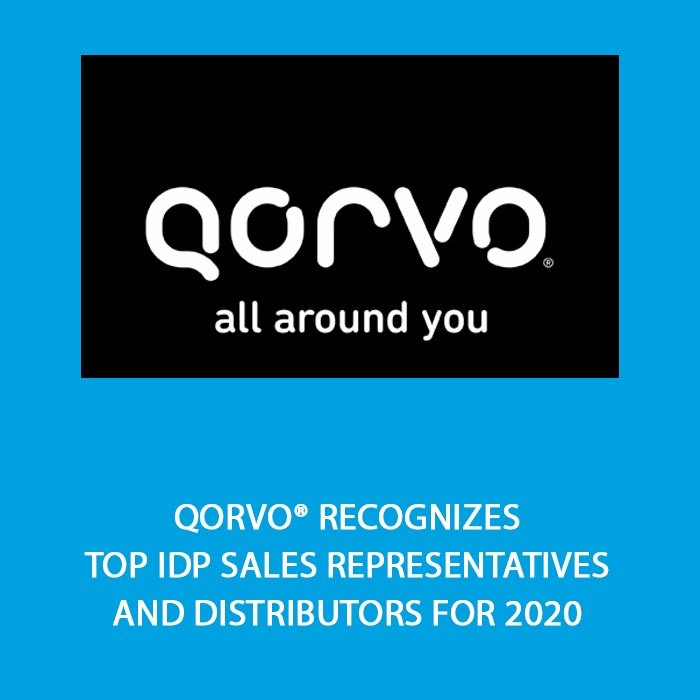 Qorvo® Recognizes Top IDP Sales Representatives and Distributors for 2020
Greensboro, NC, May 22, 2020 – Qorvo® (Nasdaq: QRVO), a leading provider of innovative RF solutions that connect the world, today announced the winners of its 2020 Sales Awards in support of its Infrastructure and Defense Products (IDP) business.
These awards recognize Qorvo's distributors and external sales representatives whose contributions to Qorvo IDP's growth and/or customer technical support exceeded expectations during the past year.
Winners were recognized during the 2020 IDP Global Sales Conference, an annual training and networking event held virtually this year, and were chosen from nominations by Qorvo's executive sales team. Qorvo's distributor and external sales representative team strengthens the company's leadership in fast-growing markets for cellular and broadband networking, the Internet of Things, and defense and aerospace applications.
The categories and winners included :
Global Distributor of the Year – Grit Award: Midoriya
Global Distributor of the Year – Resilience Award: RFMW
Representative Sales Person of the Year: Ralf Becker of Redtree Solutions
Representative Firm of the Year: dBm Technical Sales
About Qorvo
Qorvo (Nasdaq: QRVO) makes a better world possible by providing innovative Radio Frequency (RF) solutions at the center of connectivity. We combine product and technology leadership, systems-level expertise and global manufacturing scale to quickly solve our customers' most complex technical challenges. Qorvo serves diverse high-growth segments of large global markets, including advanced wireless devices, wired and wireless networks and defense radar and communications. We also leverage unique competitive strengths to advance 5G networks, cloud computing, the Internet of Things, and other emerging applications that expand the global framework interconnecting people, places and things. Visit www.qorvo.com to learn how Qorvo connects the world.
Qorvo is a registered trademark of Qorvo, Inc. in the U.S. and in other countries. All other trademarks are the property of their respective owners.
Stay Informed
When you subscribe to the blog, we will send you an e-mail when there are new updates on the site so you wouldn't miss them.