NEWS & EVENTS
Redtree News and events
Sondrel focuses on Israeli market - Appoints Redtree Solutions as its local representative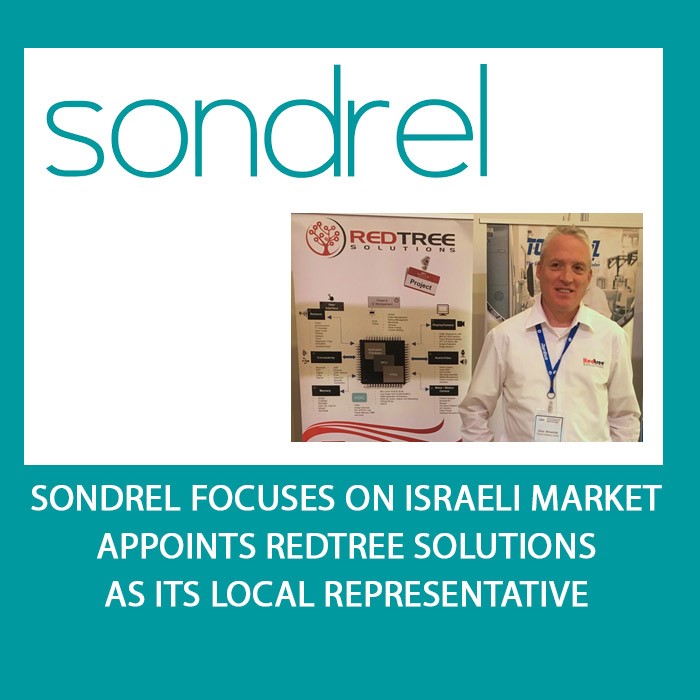 Israel is a hot bed of innovation, second only to Silicon Valley, with many of the world's leading high technology companies having offices there along with a very strong start-up culture. As this means there is a greater demand for ASIC design resources than can be met locally, Sondrel has appointed Redtree Solutions as its local representative for its design services.
"Redtree is the perfect partner to bring our services to the Israeli
Zohar Shimelmitz, the manager of Redtree Solutions' Israeli office market," said Mark Pinnock, Sondrel's Sales Director for Northern Europe and Israel. "Over the past fifteen years, they have established contacts in all the key companies that could use our specialist services of large complex digital ASIC design. In addition, because they represent a number of key players in the electronics industry, they are well known to anyone starting a new company. Unlike many other countries, Israel's high technology sector is very supportive with advice and recommendations flowing freely so, joining the Redtree's ASIC, Foundry and Services ecosystem and having them as our representatives, will open many doors."
Zohar Shimelmitz, the manager of Redtree Solutions' Israeli office, added, "Some of the most exciting areas of innovation at the moment are AI, ADAS, LIDAR and Data Centres. All of these need large complex digital ASICs but, with so many companies trying to design them, there are not the local skills available so this is a perfect market opportunity for Sondrel. With nearly twenty years of experience of delivering these kinds of design projects at the latest nodes, Sondrel will be able to provide the additional bandwidth to bring innovative chips to market. And for start-ups, this can make the difference between success and failure. Money for start-ups in Israel is rarely a gating factor but finding experienced design engineers is."
Sondrel's 200 engineers work in teams on projects for clients all over the world. The company had perfected remote secure working a few years before the COVID lockdowns so it has been able to continue to deliver design projects on time and on budget. "This has given us a reputation for reliability and quality that is the envy of many of our rivals who have struggled putting working from home measures in place," added Mark Pinnock. "We are therefore confident that, with Redtree providing our local interface for sales and, importantly, exceptional on-the-ground support as they really understand ASICs, we will be able to provide Israeli companies with the very best from concept planning through to shipping silicon."
About Redtree Solutions
Redtree Solutions is the largest pan-European representative company. More than 40 people provide service, speak local languages, and cover 20 countries with more than 500 active customers. Redtree invests in next-generation technologies for the benefit of its customers and is dedicated to their success. The Redtree application team and experts are devoted to helping customers find the most optimized architecture/solutions for their electronic systems, with the help of its partners' solutions and expertise. Redtree Solutions Ltd is headquartered in the UK. For more information, please visit www.redtree-solutions.com
Redtree Solutions Israel can be contacted on This email address is being protected from spambots. You need JavaScript enabled to view it. +972 545551034
About Sondrel™
Founded in 2002, Sondrel is the trusted partner of choice for handling every stage of an IC's creation. Its award-winning define and design ASIC consulting capability is fully complemented by its turnkey services to transform designs into tested, volume-packaged silicon chips. This single point of contact for the entire supply chain process ensures low risk and faster times to market. Headquartered in the UK, Sondrel supports customers around the world via its offices in China, India, France, Morocco and North America. For more information, visit www.sondrel.com
Press contact:
Nigel Robson, Vortex PR This email address is being protected from spambots. You need JavaScript enabled to view it. +44 1481 233080
Sondrel is a trademark of Sondrel Limited
Stay Informed
When you subscribe to the blog, we will send you an e-mail when there are new updates on the site so you wouldn't miss them.