NEWS & EVENTS
Redtree News and events
Vidatronic Announces New Silicon-Proven Power Management Unit Intellectual Property Core for Samsung Foundry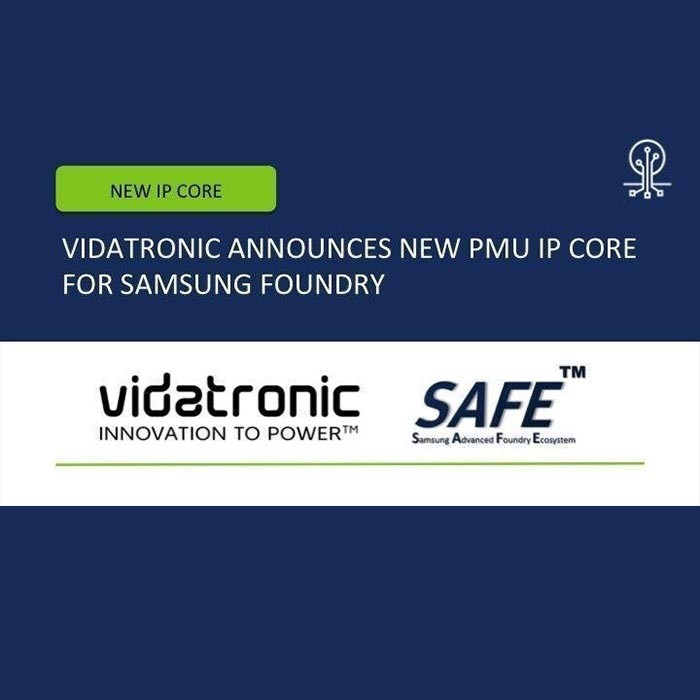 Vidatronic Press Release
College Station, TX – 02 JULY 2019 -- Vidatronic, Inc., a leading provider of analog, power management unit (PMU) and CMOS radio frequency (RF) Intellectual Property (IP) licenses, today announced the release of the latest addition to their Power Quencher® series, the VLDS0300LS130, a low dropout (LDO) voltage regulator IP core optimized for battery-powered devices where low power is critical.
The VLDS0300LS130 Power Quencher® IP core is a low-power, fully-integrated LDO voltage regulator that achieves a low-noise output voltage without the use of external components, thus saving package pins and valuable PC board space. These features make this architecture ideal for applications where size, output voltage accuracy, and output noise are of concern, especially for Internet of Things (IoT) and other wireless applications. The IP core can support input voltages from 2.5 to 6.0 V, output voltages from 1.2 to 5.5 V, and provides up to 300 mA of load current.
Vidatronic recently entered into a partnership with Samsung Foundry to provide analog IP core designs for licensing through SAFE™, Samsung Advanced Foundry Ecosystem. Through a collaboration with Samsung Foundry, Vidatronic will help mutual customers achieve product feature and performance advantages in their SoC designs by providing its patented, industry-leading analog and PMU technology, silicon-proven in Samsung's 130nm BCD process technology.
"We are committed to providing certified design enablement solutions to a wide range of customers including existing strategic customers as well as innovative, new start-ups. Through partnerships with IP providers, we will continue to serve customers with a comprehensive set of silicon qualified, application specific IP offerings from the early stage of process technology development," said Hyungjong Ko, Vice President of IP Development Team at Samsung Electronics. "Vidatronic's Power Quencher® LDO technology is expected to deliver impressive performance benefits as well as area savings for our customers' SoC designs and we are pleased to work with Vidatronic to strengthen our foundry ecosystem."
"We are very excited to be contributing our team's analog expertise to Samsung Foundry. We have extensive experience with analog, PMU, and RF design, particularly in advanced processes as low as 5 nm, with a history of first-time success in silicon production," said Moises Robinson, Ph.D., President and Co-Founder of Vidatronic, Inc. "The release of this Power Quencher® IP and announcement of the partnership with Samsung Foundry will allow customers to more easily leverage our technology to enable faster, more reliable SoC designs with distinct performance advantages over their competition."
The VLDS0300LS130 Power Quencher® IP core is immediately available. If you are interested in licensing, please contact Vidatronic at This email address is being protected from spambots. You need JavaScript enabled to view it..
About Vidatronic, Inc.
Vidatronic, founded in 2010, helps customers by licensing our latest Intellectual Property (IP) designs, including analog, power management unit (PMU) and CMOS radio frequency (RF) solutions, for integration into their application specific integrated circuits (ASICs) and systems on a chip (SoCs). Our capabilities help customers achieve product feature and performance advantages. Our service gets them to market faster and our experience reduces overall risk. We have patented industry-leading technologies and features that allow our customers to reduce required board area and cost, while maintaining the desired low-noise and low quiescent-current performance in a variety of applications, from consumer electronics to servers. Our IP portfolio includes low dropout (LDO) voltage regulators, DC-DC converters, ultra-low-power voltage references, CMOS RF power amplifiers and associated circuitry.
For more information visit www.vidatronic.com.
Press Contact
Brittany Torres, Strategic Marketing Manager at Vidatronic
979-217-2582 | This email address is being protected from spambots. You need JavaScript enabled to view it.
Stay Informed
When you subscribe to the blog, we will send you an e-mail when there are new updates on the site so you wouldn't miss them.