NEWS & EVENTS
Redtree News and events
Cirrus Logic Packs Industry-Leading Combination of Performance and Power Consumption into Digital Microphones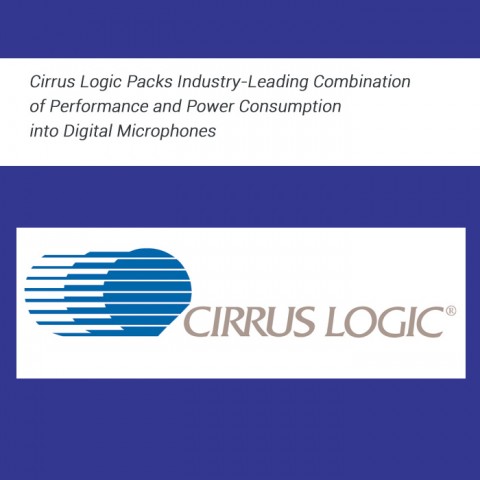 CS7250B and CS7257B High-Performance Digital MEMS Microphones Set New Standard for Audio Performance and Drop Power Consumption to Half of Competitive Products
AUSTIN, Texas – May 17, 2017 – Cirrus Logic today introduced a pair of digital MEMS microphones that achieve best-in-class audio performance and power consumption in a compact 3.5 x 2.65 mm package. Boasting a 66 dB signal-to-noise ratio at 650 µA current consumption and an acoustic overload point of 131 dB Sound Pressure Level (SPL), the CS7250B supports the lowest noise and the lowest power consumption in the industry. The wide dynamic range between the noise floor and acoustic overload point enables high-fidelity audio recording in both quiet and loud environments.
With more than 100 dB of dynamic range, the microphones allow low-level audio content such as classical music or voice to be recorded without background hiss, while also ensuring that very loud sounds such as rock concerts and wind noise don't cause distortion in the microphone. The CS7250B also includes an ultra low power mode, consuming just 160 uA of current at 62 dB signal-to-noise ratio, less than half the current of competitive microphones. This low power mode has been optimized for always-on voice control applications and trigger-phrase detection.
Cirrus Logic's CS7257B includes the same performance and features as the CS7250B and is the company's first microphone compatible with the MIPI Alliance SoundWire® standard. SoundWire is a next generation multi-device, bi-directional data and control bus being deployed in smartphones, personal computers and other consumer electronics devices. It offers fewer wires for audio signal routing and enables microphones to communicate with and be controlled by the host processor for the first time. Future microphones from Cirrus Logic will leverage the SoundWire interface, together with Cirrus Logic' smart codecs and SoundClear® software solutions, to deliver significant improvements in system level performance, new features and power consumption benefits.
"Customers are demanding microphones that deliver higher performance at lower power to simultaneously improve the sound quality and lengthen the battery life of their products," said Brad Fluke, vice president and general manager of Cirrus Logic's MEMS Microphone Division. "The CS7250B is our highest performance microphone, offering superior audio quality on the input, while significantly lowering microphone power for always-on voice detection. The SoundWire interface that we've included on the CS7257B is an important step forward for audio system optimization. With the inclusion of these advanced digital microphones, customers can utilize our complete line of audio products to optimize their audio systems for superior overall performance."
Packaging and Availability
CS7250B and CS7257B samples are available now in 3.5 x 2.65 x 0.98 mm bottom port LGA packages.
Cirrus Logic, Inc.
Cirrus Logic is a leader in high performance, low-power ICs for audio and voice signal processing applications. Cirrus Logic's products span the entire audio signal chain, from capture to playback, providing innovative products for the world's top smartphones, tablets, digital headsets, wearables and emerging smart home applications. With headquarters in Austin, Texas, Cirrus Logic is recognized globally for its award-winning corporate culture. Check us out at www.cirrus.com.
Cirrus Logic, Cirrus and SoundClear are trademarks of Cirrus Logic Inc. All other product names noted herein may be trademarks of their respective holders. © 2017 Cirrus Logic, Inc. All rights reserved.
Stay Informed
When you subscribe to the blog, we will send you an e-mail when there are new updates on the site so you wouldn't miss them.