NEWS & EVENTS
Redtree News and events
MediaTek and Redtree Solutions collaborate to grow Rich IoT adoption in European markets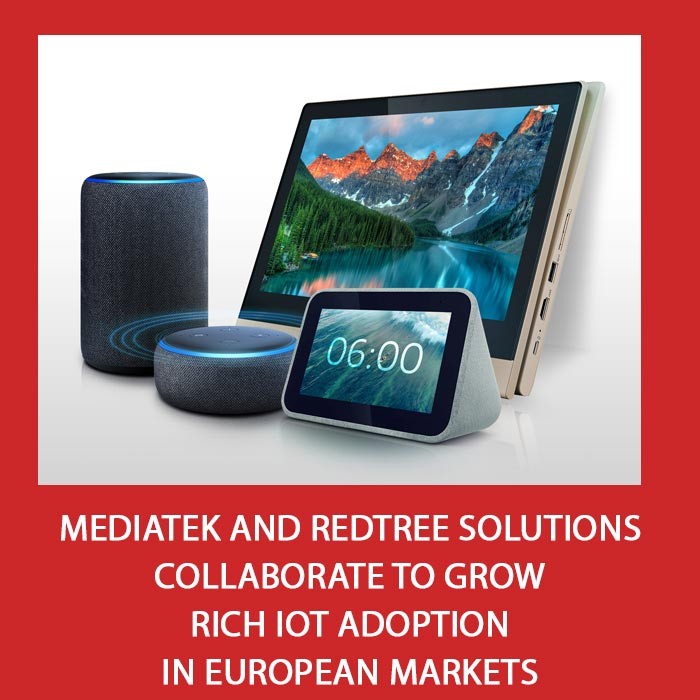 MediaTek is collaborating with Redtree Solutions - the largest pan-European representative company in the Semiconductor Industry – to maximize the growth opportunity for Rich IoT adoption in Europe. Redtree Solutions is a specialist in technical sales of semiconductor solutions, covering 19 countries through Europe.
"Redtree will help us reach more European customers who want to use MediaTek Rich IoT chipset platforms to innovate around industrial and consumer smart products," said Pascal Lemasson, head of Business Development and Sales for MediaTek Europe.
MediaTek provides an enticing range of Rich IoT chipset platforms that are ideal for a wide variety of these enhanced IoT applications throughout industrial, home, CE, retail and many more, that require significantly more edge processing capabilities compared to traditional IoT devices.
« MediaTek's Rich IoT platforms will complement Redtree Solutions ecosystems to address and help our valued customers meet their Artificial Intelligence, Computing Power and Connectivity challenges with appliances, robotics, security, payment type of applications. It will also enable faster time to market devices, thanks to


MediaTek's experienced ecosystem around product development ». said Jean-Marie Houillon, VP Marketing at Redtree Solutions
MediaTek's Rich IoT chipset platforms range from entry to high performance, providing the capacity for in-built displays/camera and AI-vision/voice IoT applications. MediaTek works with international design houses, SOMs and ODMs to ensure the development of innovative new products is as approachable and streamlined as possible.
For more information please visit: www.redtree-solutions.com | www.mediatek.com/products/iot/rich-iot
Stay Informed
When you subscribe to the blog, we will send you an e-mail when there are new updates on the site so you wouldn't miss them.