NEWS & EVENTS
Redtree News and events
Open-Silicon Receives TSMC OIP Ecosystem Forum Customers' Choice Award for Best Paper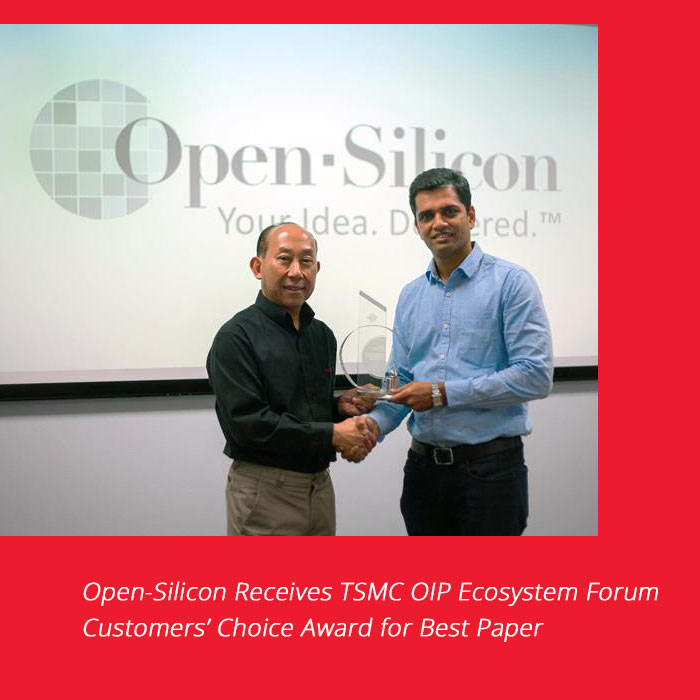 MILPITAS, Calif., Jan. 16, 2018 (GLOBE NEWSWIRE) -- Open-Silicon, a system-optimized ASIC solution provider and long-standing member of TSMC's Value Chain Aggregator (VCA) and Design Center Alliance (DCA) programs, today announced it was presented with TSMC's OIP Ecosystem Forum 2017 Customers' Choice Award for best paper.
The paper, titled High Bandwidth Memory (HBM2) IP Subsystem Solution Validation and Interoperability with HBM2 Memory Die Stack, was presented at TSMC's Open Innovation Platform® Ecosystem Forum on September 13, 2017 in Santa Clara, CA.
"TSMC has a very selective process for accepting papers, and those that are chosen represent the highest quality and highest value to our customers," said Suk Lee, TSMC Senior Director, Design Infrastructure Marketing Division. "Receiving the Customers' Choice Award for the best paper clearly demonstrates the high level of interest in Open-Silicon's HBM2 IP subsystem solution and the benefits it offers to our mutual customers using TSMC FinFET and CoWoS® technologies."
"As a TSMC VCA and DCA partner, Open-Silicon has a strong relationship with TSMC," said Mark Wright, Senior Vice President of Sales and Marketing for Open-Silicon. "We are honored to receive this prestigious award because it demonstrates our commitment to the TSMC ecosystem, and underscores our contribution to the advancement of HBM2 IP and 2.5D ASIC SiP solutions, which enable emerging applications, like deep learning and cloud computing."
About Open-Silicon
Open-Silicon transforms ideas into system-optimized ASIC solutions within the time-to-market parameters desired by customers. The company enhances the value of customers' products by innovating at every stage of design — architecture, logic, physical, system, software and IP — and then continues to partner to deliver fully tested silicon and platforms. The company has partnered with over 150 companies, ranging from large semiconductor and systems manufacturers to high-profile start-ups, and has successfully completed 300+ designs and shipped over 135 million ASICs to date. To learn more, visit www.open-silicon.com
Open-Silicon is a trademark and service mark of Open-Silicon, Inc. registered in the United States and other jurisdictions. All other trademarks are the property of their respective holders.
Contact Information:
Purvi Shenoy
Open-Silicon
408-240-5772
This email address is being protected from spambots. You need JavaScript enabled to view it.
Media Contact
Jennifer DeAnda
208-794-7113
This email address is being protected from spambots. You need JavaScript enabled to view it.
Stay Informed
When you subscribe to the blog, we will send you an e-mail when there are new updates on the site so you wouldn't miss them.