NEWS & EVENTS
Redtree News and events
Redtree Solutions & Open-Silicon Exhibiting at Embedded World 2017 Nuremberg, Germany, March 14 – 16, 2017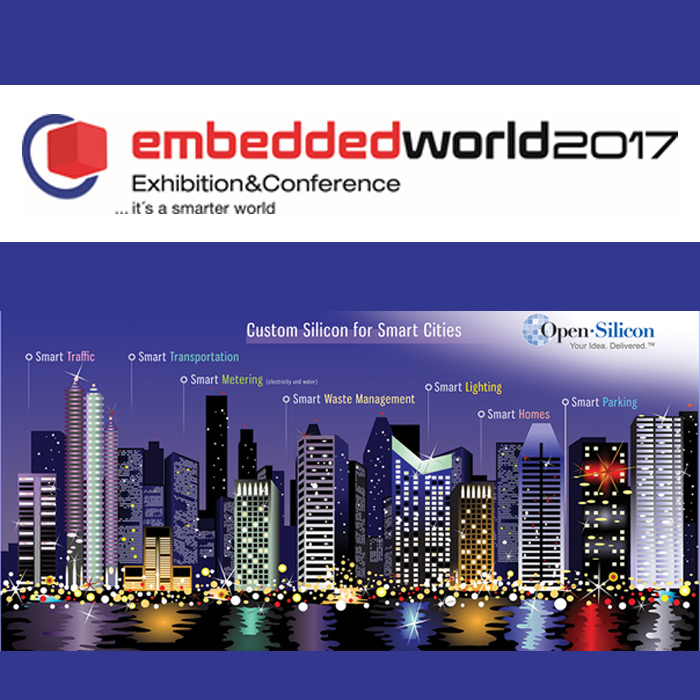 Redtree Solutions and Open-Silicon, a system optimized ASIC solutions provider, will be glad to welcome you on Open Silicon's booth at the Embedded World 2017 Nuremberg, Germany between 14 – 16 March 2017 to demonstrate the company's Custom Silicon and Gateway Platform for Smart Cities, 2.5D SoC demo along with Comprehensive HBM2 IP Sub-System Solution.
Please visit us at booth 3-641 in exhibition hall 3 for viewing the demos and learning about company's other innovative ASIC/SoC solutions.
1. Custom Silicon and Gateway Platform for Smart Cities – Company will be demonstrating end-to-end communication between edge devices / sensor hubs, gateway and cloud. The gateway platform is designed for smart city applications, which includes Smart Homes, Smart Waste Management, Smart Transport, Smart Traffic, Smart Parking, Smart Lighting, Smart Metering, etc. At its booth, company will be demonstrating Smart Lighting and Smart Parking in action.
2. Comprehensive HBM2 IP Sub-System Solution – The solution is now available for 2.5D ASIC design starts and as licensable Intellectual Property (IP). Open-Silicon's IP is fully complying with the HBM2 JEDEC® standard. The IP translates user requests into HBM command sequences (ACT, Pre-Charge) and handles memory refresh, bank/page management and power management on the interface. The IP includes the PHY and custom die-to-die IO needed to drive the interface between the logic-die and the memory die-stack on the 2.5D Interposer.
3. 2.5D SoC Solution – This platform demonstrates a functional system-on-chip (SoC) solution featuring two 28nm logic chips, with embedded dual core 1GHz ARM® Cortex®-A9 ARM processors, connected across a 2.5D silicon interposer.
When and Where:
Booth 3-641 in exhibition hall 3
Exhibition Centre
90471 Nürnberg, Germany
Date & opening times:
14 – 16 March 2017
09:00 – 18:00 (14 and 15 March)
09:00 – 17:00 (16 March)
Open-Silicon transforms ideas into system-optimized ASIC solutions within the time-to-market parameters desired by customers. The company enhances the value of customers' products by innovating at every stage of design – architecture, logic, physical, system, software, IP – and then continues to partner to deliver fully tested silicon and platforms. Open-Silicon applies an open business model that enables the company to uniquely choose best-in-industry IP, design methodologies, tools, software, packaging, manufacturing and test capabilities. The company has partnered with over 150 companies, ranging from large semiconductor and systems manufacturers to high-profile start-ups, and has successfully completed 300+ designs and shipped over 125 million ASICs to date. Privately held, Open-Silicon employs over 250 people in Silicon Valley and around the world.
Stay Informed
When you subscribe to the blog, we will send you an e-mail when there are new updates on the site so you wouldn't miss them.