NEWS & EVENTS
Redtree News and events
Vidatronic Selects Redtree Solutions as Its Sales Representative for European and Middle-Eastern Markets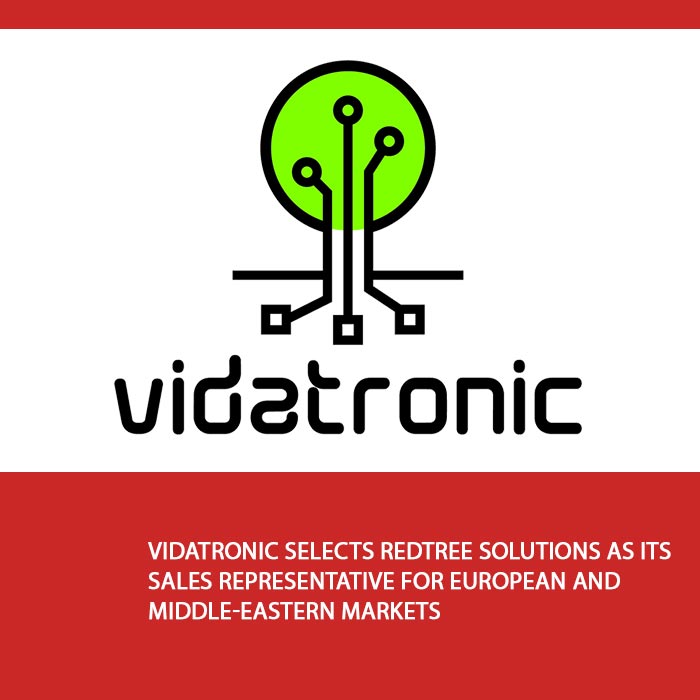 College Station, TX – 4TH SEPTEMBER 2018 -- Vidatronic, Inc. today announced the appointment of Redtree Solutions as the distributor of its proprietary power management and CMOS radio frequency (RF) intellectual property (IP) cores and design services in European and Middle-Eastern marketplaces.
"With Redtree as our partner, we are continuing our business expansion into Europe and the Middle-East, two of the most important semiconductor design areas of the world," said Stephen Nolan, Vice President of Sales and Business Development at Vidatronic. "The staff at Redtree brings several decades of combined experience and proven success in our industry to our team of independent sales representatives. They have a thorough understanding of our constantly evolving industry and we are confident they will bring outstanding support to our growing European & Middle-Eastern customer base and help increase our business in those regions."
"This relationship with Vidatronic allows us to complement our current partners Ecosystem portfolio with advanced, proprietary power management IP, further allowing us to help our customers overcome the challenges of designing differentiated SoC chips," said Jean-Marie Houillon VP Marketing & Alliances. "With support from Vidatronic, we can help our customers optimize their electronic systems and achieve greater success. We look forward to representing them across Europe and the Middle-East."
About Vidatronic, Inc. Vidatronic, founded in 2010, helps customers by licensing our latest power management circuit and CMOS RF intellectual property (IP) designs for integration into their application specific integrated circuits (ASICs) and systems on a chip (SoCs). Our capabilities help customers achieve product feature and performance advantages. Our service gets them to market faster and our experience reduces overall risk. We have patented industry-leading technologies and features that allow our customers to reduce required board area and cost, while maintaining the desired low-noise and low quiescent-current performance in a variety of applications, from consumer electronics to servers. Our IP portfolio includes low dropout (LDO) voltage regulators, DC-DC converters, ultra-low-power voltage references, CMOS RF power amplifiers and associated circuitry.
For more information visit www.vidatronic.com.
About Redtree Solutions Ltd. Redtree Solutions, founded in 2006, is the largest Pan-European representative company in the Semiconductor Industry. We have greater than 30 people at your service, speak local languages and cover 19 countries with more than 500 active customers from the Electronic Industry. Redtree invests in next generation technologies for the benefit of its customers'success. Our application team is devoted to helping customers find the most optimized architecture for their electronic systems use cases, with the help of our partners' solutions and expertise.
For more information visit www.redtree-solutions.com.
Stay Informed
When you subscribe to the blog, we will send you an e-mail when there are new updates on the site so you wouldn't miss them.