Cepton and Redtree Solutions Announce Collaboration to Unleash Lidar Innovation in Europe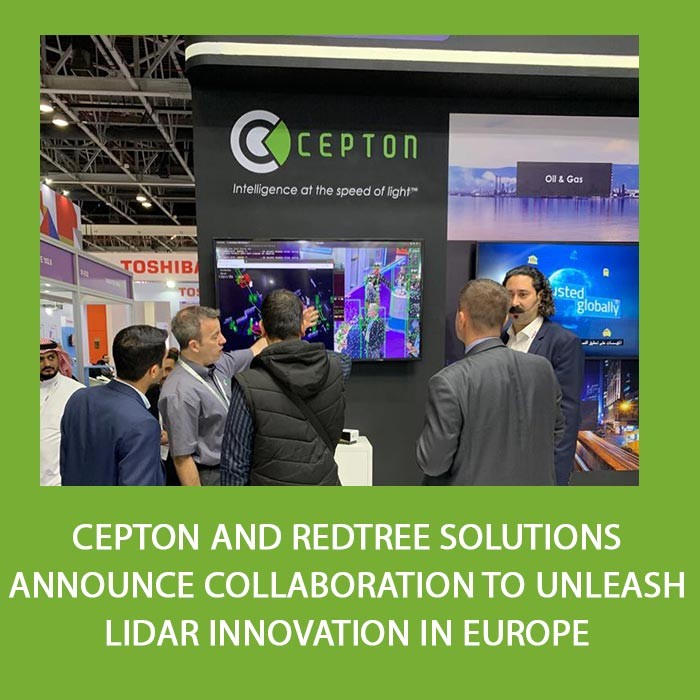 Silicon Valley lidar specialist Cepton Technologies names Redtree Solutions as European technical sales representative.
San Jose, California USA — March 9, 2020 — Cepton Technologies, Inc., a leading provider of state-of-the-art, intelligent, lidar-based solutions, has appointed Redtree Solutions as its technical sales representative in Europe.
This announcement comes in response to growing demand for Cepton's pioneering technology across the region and follows the expansion of its EMEA presence in the UK and Germany in 2019. With this collaboration, Redtree Solutions will serve as an extension to Cepton's existing Marketing and Business Development teams in Europe, to significantly expand Cepton's reach into a variety of markets and customers.
Powered by Cepton's patented Micro Motion Technology (MMT®) platform — a frictionless, mirrorless, rotation-free lidar architecture capable of high resolution and long range 3D imaging — Cepton's lidar solutions are being shipped worldwide, serving a range of commercial applications. These include automotive (ADAS), autonomous vehicles (AV), intelligent transportation systems (ITS), security, crowd analytics, mapping/surveying and more — all areas of expertise served by Redtree's pan-European team.
"Our lidar based solutions are revolutionary and have applications in many industries in Europe. Combining our Vista™ and Sora™ lidar sensors with advanced Helius™ perception software running on edge computing in a single package, our solutions can be integrated with a host of other devices and software to deliver a wide range of functions," explained Andy Nevill, Director of Customer Applications Engineering at Cepton.
"We are still uncovering new and novel use cases for lidar, which is why we are so excited to announce our collaboration with Redtree Solutions. Working with the Redtree team, we can enhance our presence in the region and serve its growing demand for our lidar innovation."
Through this collaboration, Redtree Solutions will utilize its resources to support Cepton's market growth in Europe. Covering 19 countries with more than 500 active customers, Redtree will help accelerate Cepton's business penetration in the region by generating greater awareness of the company's innovative solutions and providing on-the-ground support to expand Cepton's customer base.
Steve Judge, Redtree Solutions' Managing Director added: "We are very pleased to be working with Cepton to bring its unique and highly differentiated technology to Europe's leading industries. This is an agile, intelligent solution that's very easy to implement and offers significant value to customers across numerous disciplines."
Founded by Dr. Jun Pei and Dr. Mark McCord in 2016, Cepton uses a patented beam-steering MMT® that is unique in the industry and enables the achievement of an optimal balance of performance, reliability and cost for mass market lidars. For more information about Cepton Technologies Inc., visit www.cepton.com
About Cepton Technologies, Inc.
Cepton provides state-of-the-art, intelligent, lidar-based solutions for a range of markets such as autonomous driving, ADAS, intelligent traffic systems, security, crowd analytics, and industrial robotics. Cepton's patented MMT®-based lidar technology enables reliable, scalable and cost-effective solutions that deliver long range, high resolution 3D perception for smart applications.
Founded in 2016 and led by industry veterans with over two decades of collective experience across a wide range of advanced lidar and imaging technologies, Cepton is focused on the mass market commercialization of high performance, high quality lidar solutions. Cepton is headquartered in San Jose, California, USA. It also has registered offices in Germany, Canada and UK and a fast growing, global customer base. For more information, visit: www.cepton.com
By accepting you will be accessing a service provided by a third-party external to https://redtree-solutions.com/